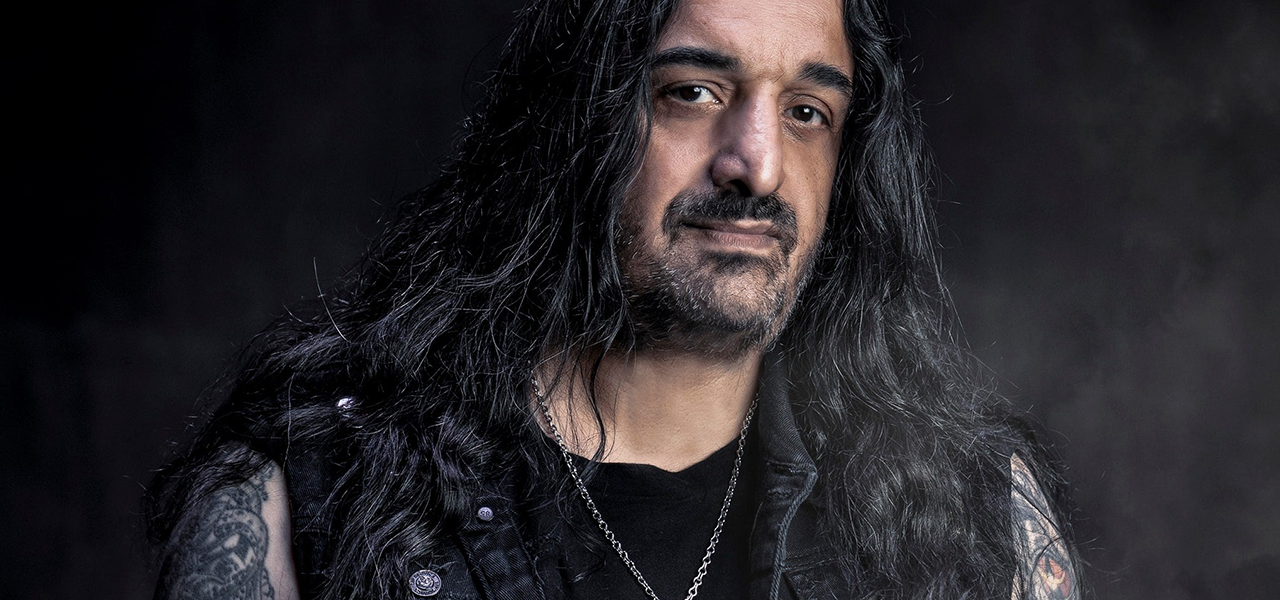 Guitarist Marios Iliopoulos from Nightrage
It's like yesterday when we first heard the record "Sweet Vengeance", celebrating now a 20th anniversary this year. At that time the song "Circle of Pain" sounded through our old Discman in a constant loop. Yeah, do you remember those old ones without anti-shock that at the very least movement cut or interrupted the song? Time flies! Greece Melodic Death Metal horde Nightrage, has had a very storied journey. Founded in 2000 by former Exhumation guitarist Marios Iliopoulos, the band has moved back and forth between Greece and Sweden. Read our interview with Marios Iliopoulos, one hell of a determined guy!
INTERVIEW
OBNUBIL: Hey Marios, how are you today? Let's start talking a bit about you. What was the trigger point that made you start creating music? Please give us a little background.
MARIOS: Hey there, I'm fine and very happy with how things are with my life nowadays. Music was always there for me and I remember enjoying listening to music from an early stage. But the trigger point for me and almost a life changing event happened one night when I heard a live show from a German TV live broadcast that had bands like Iron Maiden, Ozzy and Def Leppard among others. That moment and the intensity and passion of the music really affected me and made me understand that it is the thing that I want to do in my life.
OBNUBIL: Please tell us why you left/relocated to Gothenburg from Sydney.
MARIOS: Yeah, I was born in Sydney Australia and I left when I was 3 years old so I can't really remember anything. I wish that I can come back one day and see the place where I was born. The reason that I moved to Gothenburg was simply Nightrage. I wanted more options and possibilities for my dreams and since I already recorded 3 albums in Sweden with my old band Exhumation, it felt natural to move there permanently to start building my new steps in the music that I was passionate about.
OBNUBIL: You founded Nightrage back in June 2000, originally in Thessaloniki, Greece. Some years later, you relocated to Gothenburg, Sweden. Just as you said, that's the reason you moved there was because of the band. You started the band in Greece, but the music you always made was Swedish Death Metal. Why have you taken this musical inclination?
MARIOS: Well that's true, the band was born in Thessaloniki Greece in the summer of 2000, after the tragic split of my previous band Exhumation. I was a fan of Swedish melodic death metal, one of the reasons I am influenced from that style, but I believe that as songwriters we have a more original style as writers and performers and we don't want to follow a trend, or to be a tribute band at all. One of the main reasons back then for me to move permanently in Sweden, was also the fact that I wanted to have a quality metal sound, something that was not possible in Greece, due to lack of interest and knowledge for a good proper metal sound.
OBNUBIL: Who or what has been so far the biggest single influence on your way of thinking and creating? Is there something you are currently fascinated by?
MARIOS: I think that the whole idea to fight for your band and follow your heart in whatever you do, was my inspiration with Nightrage. I don't like listening to people's advice about my own decisions or follow a formula. I'm a very on the moment kind of guy and act with a lot of heart without thinking about the risks. I feel that I really love Nightrage and I can do everything for the band to carry on and have a better future. With that said, sometimes you get into hardships and you fall into traps, but for a reason I always move forward and did what felt best and better for the band. I'm really fascinated by true and honest people even if it's hard to find them sometimes.
OBNUBIL: When it comes to writing music, we once read that you always start with the title, is this true?
MARIOS: True fact and that's my usual approach when it comes to writing a song, but it is not always the case. But I find it inspiring to have an idea in my mind about the theme of the song and then that triggers some kind of inspiration to get the music out of me.
OBNUBIL: Tell us a little about Nightrage's history. You've been going for quite a long time!
MARIOS: Yeah, we have started back in the day in Thessaloniki Greece. I had all the passion and the energy to play music and then I took the band to Sweden to find a better future. We had a lot of cool stuff happen to us and I can tell you it was not that easy, but we never lost our love and spirit to play the music and be creative and connect with a fan base. So, now we are here and we have the new album Abyss Rising, I have some really great people with me. Ronnie Nyman, Magnus Söderman, Dino and Franco, we are all on the same page, musically and also as friends.
OBNUBIL: How would you describe the band's sound to a brand new listener?
MARIOS: It's very heavy and melodic at the same time, not radio friendly but that's how we like it. We are playing music from the heart and we are always trying to compose songs and listen and see the music as fans, because we are the biggest fans of the music we are doing. So that gives an extra uniqueness to the sound and the overall songs that we are doing.
OBNUBIL: You've been the one constant in the band from the beginning. What do you feel has kept you and the band going for so long?
MARIOS: It's my crocodile tenacity to never give up and my passion and true love for music. Music is an expression tool for me, through the lyrics and the songs we are making, it's a language for me to talk and to be able to say things that are difficult to express in normal life. I know we have changed members through the years but that was for the best of Nightrage and I wish for everybody that has been in the band the best too.
OBNUBIL: Let's talk about your latest ninth album Abyss Rising. What inspirations lie behind the sound of the album? We read that it's the final realization and the last chapter of the dark conceptual story you followed through the previous 2 albums Wolf to Man (2019) and The Venomous (2017).
MARIOS: Yeah, this is the third chapter of our trilogy that started on the 2 previous albums, we were walking towards our own extinction, but now on Abyss Rising we are already in the hell that we have created for ourselves and there's no turning back. We are done. I personally really hope that we will take another path and not end up in self catastrophe. I know we have to deal here with a very dark concept and I really hope that can be a lesson to be learned to avoid such destruction at all levels. I still have hope in the human spirit and I wish that we will do the right thing for us and find some salvation.
OBNUBIL: Great choruses with aggressiveness blended with dark melodies and layers of desperate clean background vocals to accompany the brutal growls makes this album sound more mature and more metal than ever. What's your point of view about it? What do you feel makes this one stand out in your catalog?
MARIOS: We are not writing with a formula that's for sure, what you hear is coming only from the heart, and we want to create the best songs as fans and musicians of the genre that we are playing. We are not trying to make the songs radio friendly, (not that this would be a bad thing to reach more people anyway), or trying to go always fast and dark, but with the intention to find the perfect balance between melody and aggression and these elements are defining us as artists, because we are always playing with both. I let the fans judge that at the end of the day.
OBNUBIL: Could you tell us about the production of the new album? We read it was recorded at Studio Fredman, your own Studio and Candyrock Studio. Produced by Nightrage and Fredrik Nordström… but we don't know any details about the whole process.
MARIOS: We have worked with Fredrik many times in the past with both my old band Exhumation and also Nightrage, so we know him very well and we love his mixes and his sound. I think he is still the guru of melodic death metal and he knows exactly how a good metal album should sound. It was cool actually to get back in the studio after some years, we recorded the drums with Dino, then we did the mix and master in Fredman and we are very pleased with the overall sound, I think once again Fredman gave us back the nice tones and sound from earlier albums that we have done with him in the past, with a more modern metal sound approach, plus on top his great mix!!! Also, Ronnie has recorded all his vocals at Candyrock Studio with his pal.
OBNUBIL: Your album Abyss Rising has been recorded during the pandemic and lockdowns. Has the pandemic affected the album? How have you experienced this stage of life?
MARIOS: Yeah, it was for sure risky and we didn't know what to expect really, I remember that we had to travel twice to Sweden for recording drums and the mix and master, both times we had to face the struggles of the pandemic, it was really hard for everyone but we made it in the end. There's no comparison on the older recordings, it was way easier and we didn't had to face the fear of risking our own lives. I still remember that on the second trip I didn't know if I would be able to travel back to Greece, that was tough!!!
OBNUBIL: All the very amazing artwork created around this album was done by Jon Tousas Graphic no Jutsu. How was the creation process of this artwork? Did he work on his own or have you been involved with opinions and feedback? Why did you choose him?
MARIOS: Our art guy Jon Tousas, after we gave him almost no direction, came up with that great cover, the one you can see Dante being wounded and waiting for the inevitable Abyss!!! We trusted Jon a lot and we knew that he would come up with a great cover and not only he did the main cover, but all the art covers for all digital singles, shirts, etc. The guy is a beast and you also need to think that all of that work came to him in the last minute. We are waiting to see now what he is going to do with the next album, when he would definitely have more time to work with the new material.
OBNUBIL: Your debut full-length studio album Sweet Vengeance celebrates its 20th anniversary this year. How do you look back on the album today? How do you see the beginnings of the band today and how did you imagine your musical career back then?
MARIOS: Well it's kind of an achievement to still be here after all these years, nothing had changed so much after such a long time, I haven't changed at all to be honest, I'm the same person and I still remember these days of the first album and how much I wanted to make it happen, I have sacrificed a lot to be able to record that album. Feel proud of the fact that I took the risk to move to Sweden and follow my dream to record that album and find a better future for the band. Definitely risky times for me and I had to go through a lot of hardships, both in a personal and also in a band way. I didn't knew back then what would happen and everything was at stake, but I believe that with hard work and having a vision in your mind, nothing can really stop you to reach your goals.
OBNUBIL: What is your current gear? Do you have any current endorsement?
MARIOS: Yeah, we have Enki cases and also a lot of drum related endorsements coming up for the band. Now we are working on recording new songs for the next album, it will be recorded in Greece with our pal Fotis Benardo and master with our friend George Nerantzis. Also, we have booked some shows for this fall, soon to be announced. We are very excited with cool stuff that is coming for us next year with the release of the new album and play more tours and festivals. We also have ESP guitars, Seymour Duncan pickups and pedals, Elixir strings, Orange amps, Paiste cymbals, Trick pedals, Dixon drums, Toontrack, PreSonus, AMT electronics pedals, Balbex sticks, Nologo pics, EBS bass.
OBNUBIL: After all these years and many gigs, is there a moment you specially remember?
MARIOS: Yeah, the first time that we ever signed with Nightrage and also the second chance we got with Despotz Records, believing in the band and giving us a chance to carry on with our musical dreams.
OBNUBIL: So far, what has been your biggest obstacle? The time, money, contacts… Ever the band was about to separate completely? If yes, why?
MARIOS: I think always the money was and still is a big issue for us, because having a band requires a lot of expenses. We always manage that being very strict and organizing every detail so we are not ending up in debt. Nightrage will never split up and we will go carry on to the death.
OBNUBIL: In your musical career we can also talk about guest solo appearances for various artists, such as Dragonland, Dies Irae, Septic Flesh, Firewind, Mystic Prophecy and Universum. Which appearance did you enjoy the most? Is there an artist (dead or alive) with which you would love to collaborate someday or would have loved to collaborate?
MARIOS: Yeah, I always have to say yes to any guest and I'm willing to help out any cool and hungry metal band. I enjoyed all the guests so far even from demo bands. I wish that one day I would have the chance to work with some great musician from the 80's, you know what I mean hahaha.
OBNUBIL: What do you consider the typical mistakes people make when trying to build a serious band? Any professional advice you may could give?
MARIOS: Be real and be honest, don't try to jump on the next bandwagon and most importantly play music not for the money but for and from your heart. Give something back that is original and not fake. I feel that whatever comes from the heart and has a value, always finds it's own way, even if that takes some time, there is a light at the end of the tunnel.
OBNUBIL: With the number of musicians creating music increasing day by day, do you sense some lack of originality overall?
MARIOS: Yeah, we feel that sometimes it's just a cycle of repeating riffs hahaha, in a way it's a bit true, too many bands have less quality, less great songs. With Nightrage we are trying to be ourselves and play riffs and melodies that we truly love. But definitely sometimes we see some bands and some musicians trying to copy trendy sounds or playing silly stuff in order to make it, just for the money and the fame. In the end of the day that is a downer for the newer bands that are coming with pure intentions and they see all this mess. We hope and we are trying with Nightrage to give something honest and very metal out there without sacrificing our musical integrity. We are not ashamed to call ourselves a metal band that's for sure.
OBNUBIL: Digital platforms play an important role in advertising media to listen to new music, but there are people who prefer to listen to the entire album physically. So, within this theme, people of this new generation prefer to listen to the band with one or two songs within digital platforms, smartphones and more. Why do you think albums don't have the same impact compared to the 60s, 70s, 80s and 90s? And what do bands need to do to motivate listeners to listen to all the songs on the album?
MARIOS: Because everything is for free nowadays, with a click of a button you have access to all the music you want and that makes us listeners lazy and confused most of the time. We try to adapt to the new way of how people consume and listen to music, there's no other way around it. The good thing is that metal will never die as long as we have passionate fans looking for the next band and supporting their favorite bands.
OBNUBIL: What are you looking forward to the most right now? What are your next future plans?
MARIOS: To be creative and never lose the fire and the passion to play music, be healthy and still follow my musical dreams.
OBNUBIL: It has been a pleasure getting all this information! Thank you so much for taking your time answering our questions! Is there anything that you would like to say to the readers and to your fans?
MARIOS: Thanks a lot for the chance to talk with you and the great Interview. I wanna send a lot of warm greetings to your readers and to all our fans out there, and we cannot wait to see you all out soon enough on our forthcoming shows. Maximum respect, we love ya all.
Interview done April 2023. Photo taken by Fotis Benardo and edited by Dimitris Tzortzis.