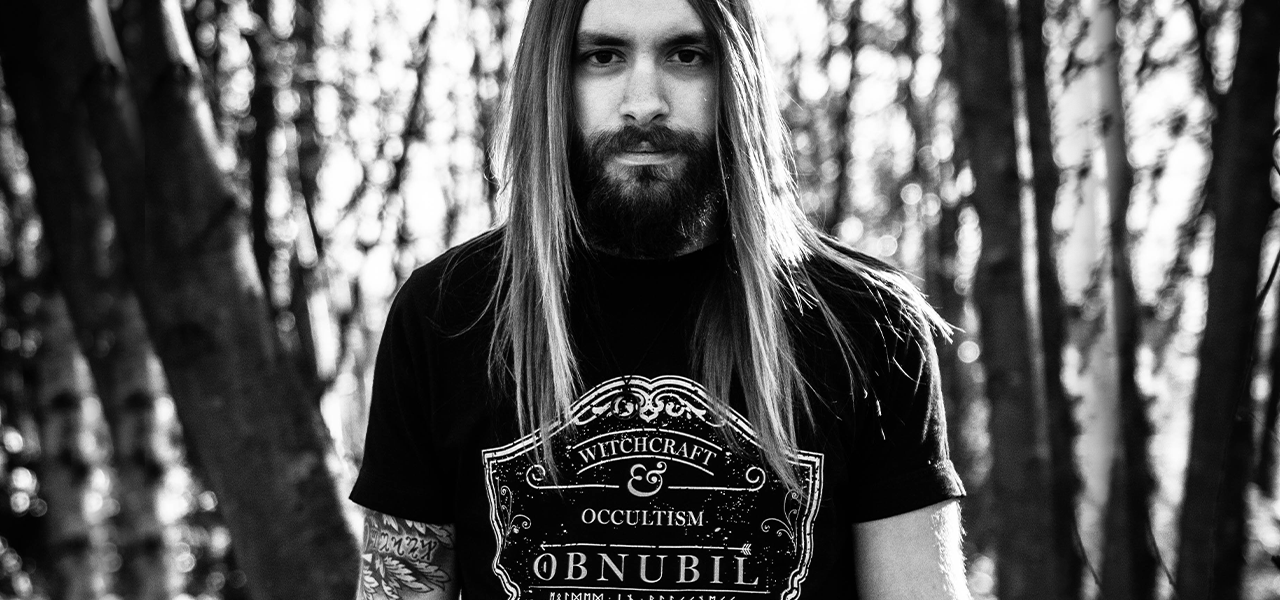 Guitarist Stef Heesakkers from Treurwilg
Some years ago, checking out profiles on Instagram, we stumbled across one that caught our attention. We discovered Dutch Doom metal band Treurwilg, a massive two-guitar attack of deep sadness, with haunting soundscapes and rumbling vocals, destined to drag even the happiest soul down to hell. Their sound is very cold and slow. We had the pleasure to chat with Stef Heesakkers, guitarist from the band, who also plays in Noctambulist (Shoegaze/Post Black metal) and Bloodcrypt (Hardcore/Death metal).
INTERVIEW
OBNUBIL: Could you give us a bit of background about you, your education and your work? What originally made you want to become a guitarist?
STEF: My name is Stef and I am 31 years old. Born in a small town called Sint-Oedenrode and now living in Tilburg. I have been playing guitar since I was 16 years old or so and right now I am active in several bands: Treurwilg (Doom/Post metal) Noctambulist (Shoegaze/Post Black metal) and Bloodcrypt (Hardcore/Death metal). When I felt down (due to personal reasons) I started to learn to play guitar to give a voice to my feelings.
OBNUBIL: How would you describe your band Treurwilg? Where does the name came from? As far as we know the Treurwilg is a species of willow native to dry areas of northern China.
STEF: Treurwilg means "weeping willow" in the Dutch language. The weeping tree. The name fits perfectly because our music is not about all the pretty things in life. Treurwilg is all about the bad and negative things that happened to me in my personal life, a way to get rid of all the bad things in our lives. For the ones we lost and the things we mourn about.
OBNUBIL: You guys are from Tilburg, a landlocked municipality and a city in the Netherlands, located in the southern province of Noord-Brabant. How would you describe your city and the music scene over there?
STEF: How I would describe Tilburg? It's not a pretty town and it's small haha. But the music scene is amazing. We have a pretty good underground scene if you talk about genres like black, doom and atmospheric metal. Bands like Izah, Ggu:ll, Faal and Abysmal Darkening to name a few. Tilburg is also famous for the Roadburn Festival, a Festival for the open minded if you would say so.
OBNUBIL: Who or what has been so far the biggest single influence on your way of thinking and creating?
STEF: My father and my "life" in general. The things I see, do, feel and witness.
OBNUBIL: What are you currently fascinated by and how is it feeding into your compositions?
STEF: The personal things in life, both good and bad things. I'm a pretty sensitive person and I love to express my feelings with the music that I create. I think we all should embrace the small things in life (even the bad things), because you can create something beautiful of the things that you feel inside.
OBNUBIL: What is your current gear?
STEF: For Noctambulist I'm using Fender guitars (Jaguar and Jazzmaster). For Treurwilg Ibanez 7 string guitars (Ibanez Iron label and RGA series). For Bloodcrypt I'm using my ESP Ec 401. My main amp is an Orange TH30 and I am using lot's of pedals, Mostly reverbs and delays to create a nice atmospheric soundscape.
OBNUBIL: Your sound with Treurwilg is cold and slow. Is there anything special you use to layer sounds and create darker atmospheres?
STEF: B standard tuned 7-string guitars are great for a low and chunky drone kind of sound. Add some overdrive and that will do the trick! We combine big-sounding chords for the rhythm parts with nice layers of atmospheric lead guitar parts. For the lead guitar parts I use different reverbs (my TC Electronic T3 Reverb and the reverb channel from my Blackstar Stage 100 head) and a delay pedal (the TC Electronic Flashback Delay).
OBNUBIL: Back in the beginning of 2020, you launched the last album An End To Rumination with Treurwilg, just when the Covid more or less started. How has the pandemic affected the release and the band in general? Are you working on new songs to release a new album now that everything has calmed down? Although it seems that right now the band has been on standby.
STEF: Corona had Treurwilg put in a big slumber, we played two shows to showcase the "new" album. One in our hometown at the Little Devil Bar. It was a fully packed and really special show. The second show was at Haunting The Castle Festival, a doom festival in Belgium. It was held in a nice castle, the venue was amazing. Great bands, great response to our music and an amazing atmosphere in general. And like a week later… covid. Treurwilg is finally awakening from it's slumber and we are slowly writing new music.
OBNUBIL: You currently seem to be more active with your second band Noctambulist. How would you describe the band's background and its sound? What is the difference between playing with Noctambulist and Treurwilg?
STEF: I joined Noctambulist after their former guitar player did quit, I know the guys and they asked me to join. In the beginning I was a bit sceptic because my full focus was on writing music for Treurwilg. I did a try out rehearsal and it turned out amazing. One album (almost two, we are in the studio as we speak) later and I am still really happy that I joined the guys. Noctambulist can be described as an "atmospheric black metal" band, but our sound is influenced a lot by post rock, shoegaze and new wave. We like bands like The Cure and The Smiths a lot. You will notice that on our second album. Haha. The difference between both bands? Well, both live shows are intense in their own ways. It's the sound that makes the difference.
OBNUBIL: What can you tell us about your latest release Noctambulist I: Elegie​ë​n? What story is behind the album? What are the lyrics about?
STEF: Our singer wrote all lyrics, I can't tell a lot about that part. It's a story about personal things. Love, death and everything in between.
OBNUBIL: People are too used to hearing English lyrics. Do you think the fact that the lyrics are in Dutch and not in English limits the band in any way?
STEF: Somehow it does, but I think it has a special meaning to us because it's in our "native" language. It's close to us. You could translate the lyrics if you want to know more about the "story" in general. But it's all about the music I guess? Hate it or love it.
OBNUBIL: During the time of the pandemic, you have been streaming with Noctambulist and trying to connect with the public. How was your experience with streamings and dealing with the pandemic as a musician and artist? Do you think that the pandemic has marked a before and after in the world of music? We have perceived new ways of trying to reach the public, changes in the way concerts are organized and sold today, the fear of the pre-sale purchase of tickets by many people due to all the cancellations that occurred, the closure of many concert venues…
STEF: The pandemic made us (fans in general if I can speak for them) realize how much music brings us all together. Music has no borders in many ways. I remember playing live stream shows, it was cool, but it's not the real deal. I missed the energy of the crowd. Things are slowly turning back to normal I guess? I remember it was pretty hard to get concert tickets right after the first lockdown waves of covid in our country. Happy to see that things are getting better!
OBNUBIL: Musically, what are you working on right now? What are your plans for the future? Any new projects? Album and/or concerts?
STEF: I just came back from the studio as we speak, I have recorded my guitar parts for the upcoming Noctambulist album. It sounds amazing already, you guys are really in for something special! In the slumber of Treurwilg, Mitchell, our drummer, me and some other friends started Bloodcrypt. This was a side "project" in the first place, but ended like a full band. Be sure to check us out when we have recorded things. Hardcore/Death metal influenced by the Swedish HM2 sound. Treurwilg is slowly awakening and we are planning to play shows later this year, a new album is also being written as we speak.
OBNUBIL: When you are not playing, what do you enjoy doing besides playing guitar? Have you got any special hobbies? We know you are very fascinated by occultism!
STEF: Yes, that's right! I have a few occult symbols tattooed on my body, like the ankh, ouroboros and the crescent moon. Every symbol has its own story, which tells a lot about me in person. I feel really attracted to them, because of their special meaning. Old symbols and stories really fascinate me. In my spare time I love to hang around with friends and go to concerts or festivals. I also love to collect vinyl and like to play video games sometimes, haha.
OBNUBIL: What's the best piece of advice you have heard? And, what's your personal motto or quote?
STEF: Just follow your dreams! Don't let anyone take them from you. Life is like a writing a book, make a special story of it.
OBNUBIL: Thank you so much for taking your time answering our questions and for giving us more information about you! Is there anything that you would like to say to the readers and to your fans?
STEF: You're welcome. It's an honor! Follow your heart, work hard and never give up on the things you want to achieve in your life! 
Interview done March 2023. Photo taken by Vincent Naus.
Which of our t-shirts is he wearing in the picture? Do you like it? It is... THIS ONE