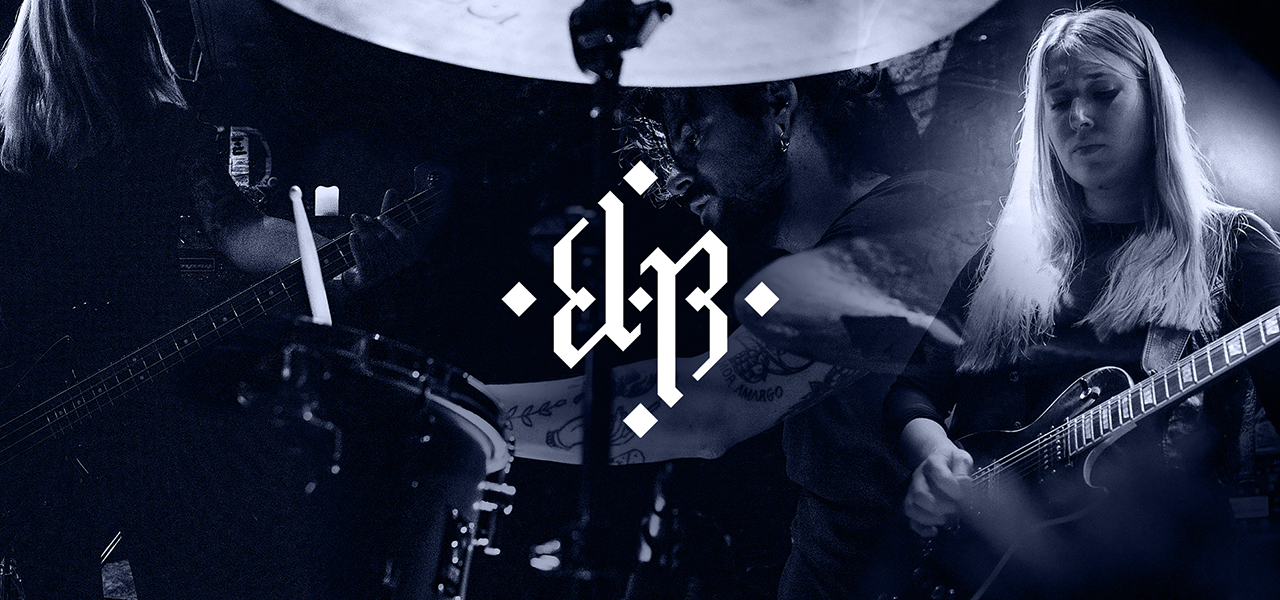 Video Interview with E-L-R & Live Review · March, 2023, Somewhere in Madrid, Spain
Once again, we had the great pleasure of seeing E-L-R from Switzerland on their first tour to Spain after having seen and discovered them back in 2019 as an opening act for Amenra in Berlin. Great musicians and even better people, we did a video interview with them just after playing their show at the Wurlitzer Ballroom venue and during Sylvain's performance. One Friday night in the heart of the city, we kidnapped them to the only corner with a little light and a small number of people around us, which was complicated. Also the wind was against us, but we have fixed the sound as best as possible. We hope we can bring you a little closer to this incredible band!
Doomgaze E-L-R are about to keep on with their second of two European tours. The Swiss trio accompanied Norwegian artist Kathrine Shepard aka Sylvaine through southern Europe past March and will start tomorrow to share the stage with American black metal band Wolves In The Throne Room. In addition to these tours, E-L-R have announced other shows and festival appearances including Voidfest and Prophecy Fest later in Germany.
Their style has been dubbed doomgaze and post-metal, and neither of those terms apply to the trio's meandering down-tempo doom epics. E-L-R's hypnotic phrases, constantly varying and distorted in repetitive loops, evoke psychedelic colors. With diligence and perseverance, the trio weaves a subtle tapestry that depicts a maze of intricate details and hidden treasures.
E-L-R lure and seduce the listener with glimpses of deeper meaning and the constant discovery of new layers that reveal more as they are removed. Their latest album Vexier doesn't give up its secrets easily, and there are many shifts and twists hiding in the shadows, as suggested by the title. "Vexier" is an odd word. It's believed to be derived from the Latin "vexare", which means "to plague" or "to irritate", but in many German dialects, it's a puzzle game. "Vexierbild" is the German term used for double images. All of these levels of meaning are echoed on this album. What is heard on the first run can morph into something else and reveal new sonic shapes with repeated listening.
The band was formed in 2016 in the German-speaking city of Bern by bassist Isabelle Ryser and guitarist Selina Muth, both also take over the singing part. They were soon joined by a friend, drummer Mischa Kästli, who came from bands more of a hardcore style. The release of their debut album Mænad back in 2019 was acclaimed by critics and fans alike, and led to invitations to tour with Amenra, support bands like Hangman's Chair and play at festivals such as Up In Smoke and Prophecy Fest.
During the worldwide live hiatus due to the pandemic in 2020 and 2021, the band used the time to take their songwriting skills to a new level and focus on the recordings of their second album Vexier, which was recorded and mastered in their hometown of Bern by Remo Häberli at Hidden Stash Studio. With Vexier, E-L-R takes us all into a journey through their fascinating and multi-layered musical cosmos.
LIVE REVIEW
After giving you all a summary of the band, we will now tell you about their recent visit to Madrid during the first tour with Sylvaine, a Friday night in the very center of Madrid, playing in the Wurlitzer Ballroom venue. Well, if you can call this place a "venue". For our part, and not only us, unfortunately this is one of the worst places in the city to play, a concert at this place rarely sounds good, but that the bands that come from abroad do not know. When a concert takes place there, people think twice about whether to buy the ticket or not.
As scheduled, E-L-R went on stage at 8:30 p.m. and would do so with the first song from their most recent production Vexier, Opiate the Sun. The simple strumming of a rhythm guitar slowly expands into an ever-expanding reverberation room. Gentle voices rise in the background. A high-pitched lead guitar begins to dig through the velvety darkness until the mounting pressure finds a way out and the rapidly expanding sonic growth erupts towards the sun.
A total of 11 minutes that served as a preamble to the aggressive Three Winds, pushing into more energetic up-tempo rhythms and showcasing a fusion of Post-Metal with Atmospheric Black Metal. However, the great work of the band would be overshadowed by the little audible presence of the voices, on several occasions people from the public were heard shouting "where are those voices please!". Unfortunately the problem was not completely fixed and the show, mostly from the middle to the back, was mostly instrumental.
Then came Seeds, where the vocals by Selina and Isabelle walk hand in hand with their own stringed weapons, therefore resulting in a headbanging, obscure wall of sounds with the trio jamming like there's no tomorrow until the song's sharp ending; and their strident riffage keeps permeating the air in the visceral Fleurs of Decay, a stunning Post-Metal feast tailored for admirers of the genre where the band will drag you to their atmospheric lair with their slow, dense and captivating sounds. With Fleurs of Decay they would put an end with their pass through Vexier, giving way to The Wild Shore, from their previous album Mænad, a long and dense song that would signaling an end to the adventure. All of their songs have similar threads connecting them all, the darkened, autumnal, moaning post-metal atmosphere is present, though maybe tweaked on each occasion. Slow burns always find their way to the climax.